---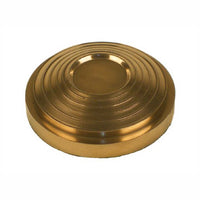 A bronze facsimile of a clay pigeon which is much admired for the quality of the casting. It is both a show piece and used as a paperweight. It is a much coveted prize. Keep an eye on it.
The bronze is produced by highly skilled craftsmen at our Lincolnshire Gedney road Studio. They apply our exclusive patented Float Bronze methods of casting and in this case the detail requires exceptional and special skill.The bronze is of a substantial weight and is felted to protect the furniture.
Your engraving is cut into a brass disc which is then fixed to the centre of the clay pigeon.Engraving costs for up to 55 letters of text is included in the price.
If any variation in the engraving is required then please telephone Thomas & Peters at 01406 363410