---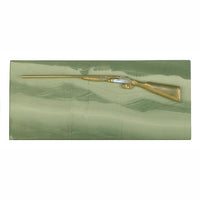 A bronze side by side gun mounted on a freestanding Geen Lakeland Slate plaque.
A simple but striking piece of work from the Thomas & Peters Gedney Road Studios. The gun has all the sharpness that comes from the highly skilled craftsmen that produce all our works, applying the exclusive Thomas & Peters patented float bronze casting methods.
Perfect as a small prize and much admired by those who have taken one home at the end of a great day outdoors.
Please call Thomas & Peters on 01406 363410 for any variation on the standard work. Ample room for engraving the cost of which up to 55 letters is included in the price.