---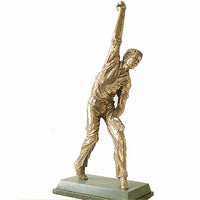 This much admired sculpture of a bowler captures all the dynamics of the unique action of the cricketer bowling the ball. It has a tension about it which belies the immense leverage which is involed in delivering the leather ball at over 90 miles per hour.
A sculpture is a frozen moment of any action and yet in this piece there is no doubt how much has happened and how much more is to come. It almost seems to be moving. This is the unique attraction of this particular sporting sculpture.
One of Thomas & Peters larger stock figures and is a wonderful prize and the perfect piece for a perpetual trophy and a delightful birthday present. Hand made by highly skilled craftsmen in castings methods using Thomas & Peters patent Float Bronze, it can be patinated should the buyer want to have it in the classic monumental finish.
This beautifully observed sculpture is mounted on a two tier base made of Geen Lakeland Slate which can easily be converted to a twin base with a 2"/5.5cm block of finely finished mahogany. Ample space for engraving with up to 55 letters being included in the price. Call 01406 363140 for more information.