---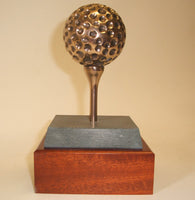 This over-sized golf ball is the middle-sized of the three golf ball trophies available at Thomas & Peters. These three bronze balls are ideal as a three-prize package, but are equally suitable as individual trophies or gifts for a range of purposes. This piece has a very striking presence on a prize table individually, and works beautifully with its two fellow balls sized on either side. Its simplicity makes it suitable for any trophy of any title. There is a special cleverness about this handmade casting in that the spherical shape and the dimples work to reflect any light that is going. Casting a sphere is a specialised skill. When you see how true-to-life this piece is, you will be surpised to hear that the modelling is a representation rather than an actual enlargement. If you wish to count the number of dimples you will find slightly fewer than on the real thing. Being mounted on the Thomas & Peters twin base, in this case the mahogany is 2"/5.5cm deep, the trophy is also suitable as a Perpetual Trophy having lots of room for an important engraved plate. This hand-sculpted piece is exclusive to Thomas & Peters. The creative process starts with an original idea and a lump of clay and ends with this unique real-bronze piece. Every piece is handmade individually through our registered float bronze process. These distinctive pieces will have enduring appeal in any club or home. Our solid sculptures have a clear presence and lasting appeal. They will endure as a perpetual trophy or offer years of pleasure as a gift.
Options for engraving:
The mounting of the piece includes space for an engraving plate with up to 65 characters (including spaces) included in the price of the piece. We can also add your club or company logo or design please contact us on 01406 363410 or
sales@thomasandpeters.co.uk
for more information about this.
Option for trophy mounts:
Our trophies are mounted on natural green Lakeland slate as standard but you can also choose Burlington Blue, an exquisite black slate. Please contact us on 01406 363410 or
sales@thomasandpeters.co.uk
for more information.