---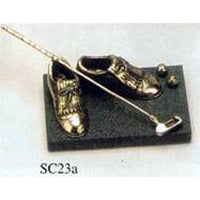 This handmade sculpture of shoes, balls and clubs is a beautiful original from Thomas and Peters's. The arrangement includes a pair of traditional-style shoes, tiny golf balls and a putter, all to perfect scale. From the tassels on the shoes, to every dimple on the ball, to the club grip and the club head, this sculpture really is true to life in miniature. Made in real bronze, crafted in superb detail and mounted on authentic Lakeland green slate, these arrangements have lasting charm and appeal. Space is included on the slate mount for a brass plate which we can engrave to your specification, with your club, company or trophy name and any logo or design. Ideal for small club and society events. This hand-sculpted piece is exclusive to Thomas & Peters. The creative process starts with an original idea and a lump of clay and ends with this unique real-bronze piece. Every piece is handmade individually through our registered float bronze process. These distinctive pieces will have enduring appeal in any club or home. Our solid sculptures have a clear presence and lasting appeal. They will endure as a perpetual trophy or offer years of pleasure as a gift.
Options for engraving:
The mounting of the piece includes space for an engraving plate with up to 65 characters (including spaces) included in the price of the piece. We can also add your club or company logo or design please contact us on 01406 363410 or
sales@thomasandpeters.co.uk
for more information about this.
Option for trophy mounts:
Our trophies are mounted on natural green Lakeland slate as standard but you can also choose Burlington Blue, an exquisite black slate. Please contact us on 01406 363410 or
sales@thomasandpeters.co.uk
for more information.