---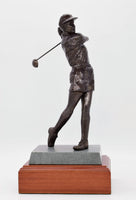 This exclusive patinated bronze figure is an outstanding work of sporting art and deserves the warm commendation it gets from every recipient. With a twin stone and mahogany base, and would be perfect as a perpetual trophy.  They do not come better than this for power and purpose. A modern confident lady prepared to take on anyone on any course, this piece shows a beautifully balanced completion of the stroke. The detail in this figure is an example of the Thomas & Peters hallmark of excellence. Notable points are the visor, the flowing pony tail, the decoration and studs in the shoes. It is easy to see why this figure is so popular. This hand-sculpted piece is exclusive to Thomas & Peters. These distinctive pieces will have enduring appeal in any club or home. This classic figure makes a great prize or gift for any golfer and is sure to be much loved for years to come. This superbly-finished bronze piece is handmade individually through our registered float bronze process, as are all our trophies and figures. These distinctive pieces will have enduring appeal in any club or home. It will offer years of pleasure as a gift or trophy. 
Options for engraving:
 The mounting of the piece includes space for an engraving plate with up to 65 characters (including spaces) included in the price of the piece. We can also add your club or company logo or design please contact us on 01406 363410 or 
sales@thomasandpeters.co.uk
 for more information about this. 
Option for trophy mounts:
 Our trophies are mounted on natural green Lakeland slate as standard but you can also choose Burlington Blue, an exquisite black slate. Please contact us on 01406 363410 or 
sales@thomasandpeters.co.uk
 for more information. Approx weight 2.0 k