---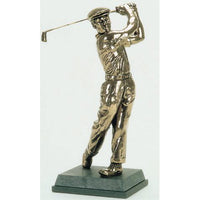 This superb sculpture shows a classic stroke by the famous Ben Hogan.
The piece has all the recognisable features of the great man and captures the particular way in which he hit the ball. It ticks all the boxes when it comes to a decision on what could be an ideal trophy for the event in question.
This is a presentation piece which will appeal to any winner who can bask in reflected glory. It is the type of statue which works not just as a prize or major trophy, but also as a fine and outstanding decorative piece for a reception area.
The process of creating a twin base elevates this figure into a major perpetual trophy - the base consists of a slice of Lakeland Slate and another of a 2" deep fine mahaogany. The mahogany has sharply moulded top edges to give it that extra touch of class.
This hand-sculpted piece is exclusive to Thomas & Peters. The creative process starts with an original idea and a lump of clay and ends with this unique real-bronze piece. Every piece is handmade individually through our registered float bronze process. These distinctive pieces will have enduring appeal in any club or home.
Our solid sculptures have a clear presence and lasting interest and will endure as a perpetual trophy or offer years of pleasure as a gift.
Options for engraving:The specially-commissioned brass and inlaid plate is an additional feature on the Ben Hogan trophy demonstrating our all round high class work. The mounting of the piece includes space for an engraving plate with up to 65 characters (including spaces) included in the price of the piece. We can also add your club or company logo or design please contact us on 01406 363410 or sales@thomasandpeters.co.uk for more information about the brass inlaid plate and other options.
Option for trophy mounts. Our trophies are mounted on natural green Lakeland slate as standard but you can also choose Burlington Blue, an exquisite black slate. Please contact us on 01406 363410 or on sales@thomasandpeters.co.uk for more information.

The bronze Golf Trophy portrait of Ben Hogan ideal for tournament and Seniors top Prize-13"/33.5cm. Approx weight 3.0 kilo