---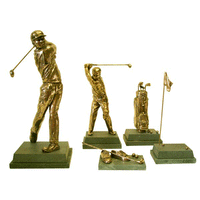 Thomas & Peters's prize packages offer the complete range of prizes for a successful tournament. Prize Package 9 is designed to meet every need for a primary tournament, with a range of original and superbly-finished handmade bronze pieces chosen from our outstanding selection. Includes Winner, Runner-up, Third, Longest Drive and Nearest the Pin trophies. Golfers may also wish to build their own prize packages by choosing individually from among our range of trophies. ENGRAVING. The price of this package includes up to 65 characters on each piece, on up to three lines. We can also add your club or company logo or design at an additional cost. We will contact you on receipt of your order to confirm your engraving requirements, or you may wish to phone us about this on either before or after you place your order 01406 363410 or email. sales@thomasandpeters.co.uk Winner - Golfer at the end of a perfect drive
S114
. A bronze male golfer which is a beautifully accurate picture of the golfer at the end of his swing - in this case the winning shot. It is a particularly striking figure in every respect at 11.5"/29.5cm tall, and one of the favourites in our collection. Mounted on green Lakeland slate, the balance and power of the stroke are just perfect. The dress, the power and the athleticism is a marvellous combination. This original sculpture in bronze is a fine trophy with immense detail in the casting right down to the shoes and the club. This piece is also available for individual purchase - please see item S76. Runner-Up - Golfer at top of swing
S64
. This bronze figure of a golfer about to make the all-important tee shot is ever-popular and always well-received. Showing a dedicated golfer at the beginning a perfectly-executed drive, this lovely 8.5"/22.5cm piece has impressive stature. Look out for the great details from the separately-cast club, to the folds in the trousers, to the decorative detail on the shoes and club. Winners of it have told us years later how proud they are to have it as a reminder of the day they won it - as well as for the class of the piece itself. Mounted on a 4.5x3.5"/11.5x9cm base. This piece is also available for individual purchase - please see item S64. Third - Bronze Golf Bag
SC68
. This modern design golf bag with individually cast clubs shows an enormous amount of detail. The bag, created by our in-house sculptor Ellinor Atkinson, includes a putter, a driver, two irons, and three tiny golf balls. The straps, piping and pockets are beautifully defined. The four clubs are each cast individually and fixed into the bag as part of the art-casting process. All made to perfect scale from the zips and seams on the bag to every dimple on the ball, this sculpture really is true to life. This piece is one of the latest additions to our excellent range of bags. Mounted on a green Lakeland slate base sized 4.5x3.5"/11.5x9cm.This piece is also available for individual purchase - please see item SC68. Longest Drive - Shoes, Balls and Club
SC23A
. A fine small trophy consisting of a pair of beautifully-modelled golf shoes, balls and a club in superb detail. The perfect little bronze golf shoes are approx. 2.75 inches/6.9cms long with a separately cast bronze driver. From the tassels on the shoes, to every dimple on the ball, to the club grip and the club head, this sculpture really is true to life in miniature. The traditional-style shoes, tiny golf balls and putter are all to perfect scale. Mounted on a natural green Lakeland slate base of 4x2.5"/10x6.5cm. This piece is also available for individual purchase - please see item SC23A. Nearest the Pin - Flag & Balls
SC44
.This piece is one of our unique and charming golf inventions consisting of an 8 inch/20.5cm flag with perfectly miniaturised golf balls. The famous flag and balls combination speaks for itself as the Nearest the Pin prize. Perfectly detailed and a scenario that will strike a note with every successful golfer, it is a lovely trophy for this important achievement. Mounted on a natural green Lakeland slate base of 3.5x2.5"/9x6.5cm. This piece is also available for individual purchase - please see item SC44. These pieces each have superb modelling and casting and are original to our studio. They are significant in scale and weight and come mounted on natural Lakeland slate bases. The hand-sculpted pieces by our in-house artist Ellinor Atkinson are exclusive to Thomas & Peters. The creative process starts with an original idea and a lump of clay and ends with a superb real-bronze piece. Every piece is handmade individually through our registered float bronze process. These distinctive pieces will have enduring appeal in any club or home. Our sculptures have a unique presence and lasting appeal. They will endure as trophies or offer years of pleasure as a gift.
Option for trophy mounts:
Our trophies are mounted on natural green Lakeland slate as standard but you can also choose Burlington Blue, an exquisite black slate. Please contact us on 01406 363410 or
sales@thomasandpeters.co.uk for more information.