---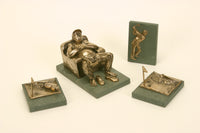 Thomas & Peters' prize packages offer the complete range of prizes for a successful tournament. Prize Package 3 offers a range of original and superbly-finished handmade bronze pieces chosen from our outstanding selection. Includes Winner, Runner-up, Longest Drive and Nearest the Pin trophies. Golfers may also wish to build their own prize packages by choosing individually from among our range of trophies.
ENGRAVING
The price of this package includes up to 65 characters on each piece, on up to three lines. We can also add your club or company logo or design at an additional cost.
We will contact you on receipt of your order to confirm your engraving requirements, or you may wish to phone us about this on either before or after you place your order 01406 363410 or email sales@thomasandpeters.co.uk
Winner - Armchair Golfer S41c
This worn-out golfer relaxing in his chair is a fantastic piece of original sculpture, a unique and special creation that grabs everybody's attention. The bronze chair gives the work every bit of weight it deserves. The detail of this 7" figure is worth some inspection from his vest to his well-fitting trousers. In contrast the shoes are impeccably modelled with classic cut tongues and laces. This is a serious and brilliant piece of sculpture and one of the excellent pieces of sculpture in our gallery characterised by spontaneous free modelling. A truly clever and skilled work of art. A much-loved prize. Also available for separate purchase - see item number S41c.
Runner-Up - Miniature Bunker with Golf Bag, Sand Rake, Flag & Ball M11
A sculpture in bright bronze of a bunker and green, with flag and ball. In the bunker is a sand rake and beside the green is a golf bag with clubs.There is an almost impossible amount of detail for a sculpture this size. Our miniatures are the smallest in our range and are designed to offer a superb level of detail and craftsmanship whatever your budget. Mounted on a Lakeland Slate base measuring 3x2.5"/8x6.5cm with height of 2.5"/6.5cm. Also available for separate purchase - see item number M11.
Longest Drive - Miniature Golf Plaque of Golfer Driving M12
A free-standing golf plaque of a male golfer, cast in bright bronze, executing a drive. This plaque is a beautiful high-relief miniature model. The piece calls upon the age-old craft of modelling in high relief - this skill of working in two dimensions demands a special grasp of perspective. The Lakeland Slate plaque measures 3x2/8x5.5cm. Also available for separate purchase - see item number M12.
Nearest the Pin - Miniature Bunker, Flag, Sand, Rake & Balls M10
A sculpture of part of a green and bunker mounted on a piece of green Lakeland Slate. The bunker has a sand rake in it, and the green has two balls and a flag. This lovely miniature is brimming with detail. A delightfully decorative piece. This piece measures 2"x 2"/ 5.5x5.5cm and is mounted on a Lakeland Slate base (3x2.5"/8x6.5cm). Also available for separate purchase - see item number M10. These pieces each have superb modelling and casting and are original to our studio. They are significant in scale and weight and come mounted on natural Lakeland slate bases. The hand-sculpted pieces by our in-house artist Ellinor Atkinson are exclusive to Thomas & Peters. The creative process starts with an original idea and a lump of clay and ends with a superb real-bronze piece. Every piece is handmade individually through our registered float bronze process. These distinctive pieces will have enduring appeal in any club or home. Our sculptures have a unique presence and lasting appeal. They will endure as trophies or offer years of pleasure as a gift.
Option for trophy mounts:
Our trophies are mounted on natural green Lakeland slate as standard but you can also choose Burlington Blue, an exquisite black slate. Please contact us on 01406 363410 or
sales@thomasandpeters.co.uk
for more information.