---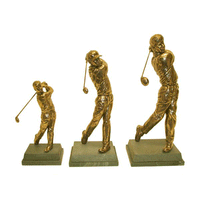 Thomas & Peters's prize packages offer the complete range of prizes for a successful tournament. Prize Package 17 is for a major men's competition with a range of original and superbly-finished handmade bronze pieces chosen from our outstanding selection. Includes Winner, Runner-up, and Third place trophies. Golfers may also wish to build their own prize packages by choosing individually from among our range of trophies.
ENGRAVING
The price of this package includes up to 65 characters on each piece, on up to three lines. We can also add your club or company logo or design at an additional cost.
We will contact you on receipt of your order to confirm your engraving requirements, or you may wish to phone us about this on either before or after you place your order 01252 545486 or email sales@thomasandpeters.co.uk
Winner - Golfer at End of Swing S82
This substantial piece is chosen from the selection of larger figures in the Thomas & Peters range. An original sculpture, it is a much-favoured representation of the end of the swing with a first-class casting of the club chosen properly for this shot. This figure stands tall and powerful at 13"/33.5cm and is a prize which any winner would be proud to keep as a reminder of an important golf day. This solid bronze figure has a lasting appeal and will endure as a perpetual trophy, or offer years of pleasure as a gift. This piece is also available for individual purchase - please see item S82.
Runner-Up - Golfer at the End of a Perfect Drive S114
 A bronze male golfer which is a beautifully accurate picture of the golfer at the end of his swing. It is a particularly striking figure in every respect at 11.5"/29.5cm tall,and one of the favourites in our collection. Mounted on green Lakeland slate, the balance and power of the stroke are just perfect. The dress, the power and the athleticism is a marvellous combination. This original sculpture in bronze is a fine trophy with immense detail in the casting right down to the shoes and the club. This piece is also available for individual purchase - please see item S76.
Third - Golfer Finishing Tee Shot S63
A fine golf figure finishing the tee shot. This original bronze sculpture is the perfect illustration of how to finish if the ball is going to carry as the player intends. Look out for the great details from the separately-cast club down to the studs on the shoes. This figure, which is 8.5"/22cms tall is a superb portait of a dedicated golfer completing some great work. The action captured in this fine hand-sculpted and hand-cast figure can be seen on many golf courses at top tournaments. This piece is also available for individual purchase - please see item S63. These figurative pieces each have superb modelling and casting and are original to our studio. They are significant in scale and weight and come mounted on natural Lakeland slate bases. The hand-sculpted pieces by our in-house artist Ellinor Atkinson are exclusive to Thomas & Peters. The creative process starts with an original idea and a lump of clay and ends with a superb real-bronze piece. Every piece is handmade individually through our registered float bronze process. These distinctive pieces will have enduring appeal in any club or home. Our sculptures have a unique presence and lasting appeal. They will endure as trophies or offer years of pleasure as a gift.
Option for trophy mounts:
Our trophies are mounted on natural green Lakeland slate as standard but you can also choose Burlington Blue, an exquisite black slate. Please contact us on 01252 545486 or
sales@thomasandpeters.co.uk
for more information.