---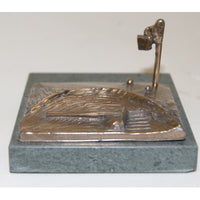 The prize is a delightfully decorative piece and works perfectly as a prize for any title won in a competition. Where else do you find a trophy of a sand rake accompanied by a bunker, a green, two balls and a flag? At Thomas & Peters Miniatures, of course. As well as being a wonderful trophy, it is a great bit of fun. This piece is a great example of the inventiveness of our sculptor Ellinor Atkinson, who has modelled all Thomas & Peters's excellent miniatures. Choose several items from Thomas & Peters's range of plaques and miniatures to make up a prize package which travels easily and suits your budget. Like all its fellow miniatures it will travel safely and neatly wrapped in a pair of socks. A selection of packages for those with a bigger budget is also available under Prize Packages. This piece measures 2"x 2"/ 5.5x5.5cm and is mounted on a Lakeland Slate base (3x2.5"/8x6.5cm), with plenty space for three lines of engraving on a black enamelled silver plate. This hand-sculpted piece is exclusive to Thomas & Peters. The creative process starts with an original idea and a lump of clay and ends with this unique real-bronze piece. Every piece is handmade individually through our registered float bronze process. These distinctive pieces will have enduring appeal in any club or home. Our solid sculptures have a clear presence and lasting appeal. They will endure as a perpetual trophy or offer years of pleasure as a gift.
Options for engraving:
The mounting of the piece includes space for an engraving plate with up to 65 characters (including spaces) included in the price of the piece. We can also add your club or company logo or design please contact us on 01406 363410 or
sales@thomasandpeters.co.uk
for more information about this.
Option for trophy mounts:
Our trophies are mounted on natural green Lakeland slate as standard but you can also choose Burlington Blue, an exquisite black slate. Please contact us on 01406 363410 or
sales@thomasandpeters.co.uk
for more information.