---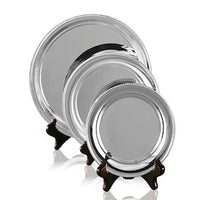 A fine tray handcrafted in England, silver plated on heavy gauge brass. The salvers are silver plated with a distinctive Gadroon wire edging.
An optional wooden stand at £25.00 is also available
which allows the tray to be displayed free standing. Whether used for a corporate award or gift, or as a sporting trophy or prize to commemorate a great achievement, this classic piece will be treasured for many years to come. This superb range of trays can be personalised with your own engraved message on the surface. Each item has its own luxurious satin-lined, blue presentation case. It is available in a range of 3 diameters from 7 inches up to an impressive 11 inches. The price for a stand for upright presentation is £17.50 retail. For engraving costs please telephone 01406 363410 or email
sales@thomasandpeters.co.uk
for a quotation. NB: The "weight" is calculated on a volumetric basis.