---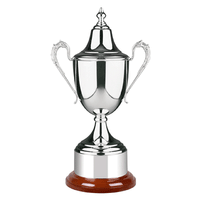 An impressive silver plated cup, handcrafted in Britain using traditional methods and only the best quality materials.
Comes with the option of a beautifully-made silver plated lid £80.00 at inc VAT.
Available in five sizes, from 7.75 inches to an impressive 15 inches high. Each trophy features finely-detailed handles and comes complete with a lovely wooden plinth and an integral plinthband. This high quality cup comes with a 10 year warranty and makes an superb award at any presentation. This trophy has two areas that are suitable for engraving the name of your own event and winners, the trophy body and the integral plinthband. The height is measured from the bottom of the plinth to the top of the handles. All of the trophies in this range are supplied boxed for your convenience. For engraving costs please telephone 01406 363410 or email
sales@thomasandpeters.co.uk
for a quotation. NB: The "weight" is calculated on a volumetric basis.