---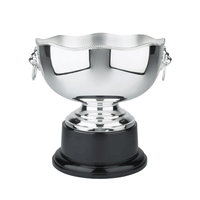 This handsome traditional silver-plated rosebowl has been handcrafted using traditional methods and only the best quality materials. It features two highly-detailed lion head handles and a curvy ornamental band decorated with a Gadroon-style edging. This rosebowl is available with either a Bakelite plinth or a beautifully-finished wooden one for special presentations. Both plinths are crafted to fit the optional silver-plated plinth bands available. It is also supplied with a detachable lattice mesh to support an arrangement of roses roses. Whether given as gift or as a prize in recognition of any exceptional achievement, this award will be treasured for many years to come and grace any room. The plinth band and the body of the bowl provides two areas for engraving. All height measurements are from the bottom of the base to the top of the lattice mesh.
OPTIONAL SILVER PLINTH BAND TB75 at 3120.99 incl VAT
For engraving costs please telephone 01406 363410 or email
sales@thomasandpeters.co.uk
for a quotation. NB: The "weight" is calculated on a volumetric basis.